Podcast: Play in new window | Download
Lainey Fink Scott | Episode 317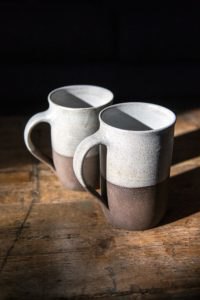 Lainey Fink Scott is a ceramicist and designer based on Martha's Vineyard, Massachussetts. She graduated from the Rhode Island School of Design with a BFA in Graphic Design. There she enrolled in a ceramics class and fell in love with clay. After working with design firms in NYC and Boston, she teamed up with her husband/design partner, Ben Scott to form Bluerock Design. After moving to Martha's Vineyard Lainey's life shifted—she got back on the wheel and transformed her basement into a pottery workspace. While running Bluerock, her ceramics business has grown. This has allowed Lainey to hone her focus—creating structurally functional pieces that can be utilized every day. You can find Lainey most days arms deep in clay—throw, trim, glaze, repeat.
SPONSORS
Number 1 brand in America for a reason. Skutt.com
For all your ceramic needs go to Georgies.com
Tell me the difference between a logo and a brand and how do the two relate?
A logo is a wordmark and it could be an icon. It could be, let's say, a bowl. A bowl is your mark and that is on top of your letters. So that is your logo. The branding is everything that falls under that. That is the top of the umbrella almost. All of the stuff that falls under it is your branding. That could be your color pallet, maybe it's the stationary, it could be print collateral, it is basically everything that you need.
How does having a strong brand give you a competitive edge as a business?
I think it gives you a huge competitive edge because people are taking you seriously. They are looking at your logo and they are thinking , this person thinks so much about what they put into the design and the look and feel of their pottery and now it also transfers to their logo. Sometimes there is a disconnect between people making beautiful artwork yet their logo does not represent that.
There are two sides to a brand, there is me and there is you. So how do you make sure your brand connects to me but also connects to an audience?
That is a good question. It is something that is felt. Just like looking at someone's pottery. It is something that you feel. Whether you are keeping it rough, maybe you are using really grogged clay and you have a lot of distressing. Or you take the time to really sand it and  perfect it and make it this perfect, perfect shape. It's a feeling that you feel when you look at it.
How important is my story to create a better relationship with my customer?
I think it is just the way that the viewer feels when they look at your work. They connect with you on  a certain level. Maybe you have had hard events in your life. Maybe you are a really happy-go-lucky person and that shows through in your work. What you makes comes out of who you are as a person. I think we all evolve over time. When I look back at my work I feel like I have evolved in just this last year. But it is what you are feeling at that time and moment that feels right to you.
How do you take into account the requests from customers when you are taking on commissioned work? How much creative direction do you take for commission work for pottery?
It all depends on the client. Some clients will come and say, I saw this on Instagram, could you make me 40 of them? Someone else will come and say, I am looking for something with some texture in the blue-green family,  and I usually show them some different options. It just all depends. Other times clients give you huge creative freedom.
Book
Contact:
Instagram: @laineyfink