Podcast: Play in new window | Download
Malcolm Greenwood | Episode 356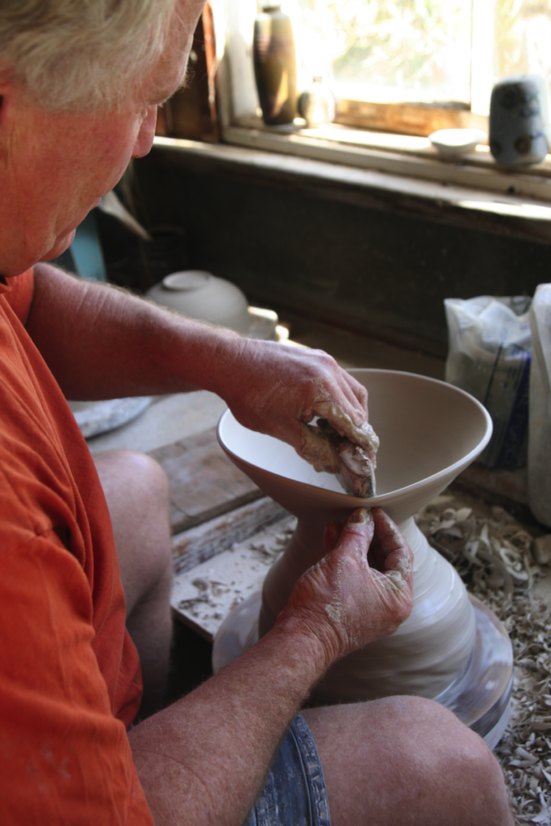 Malcolm Greenwood's focus on production has allowed Malcolm to develop a level of skill and discipline which continually brings more simplicity and freedom to both his exhibition and production work. Additionally, there is a constant exchange, to and fro, between these contrasting areas of Malcolm's work. Great satisfaction is gained for Malcolm from making pieces which are used everyday by thousands of people. Chefs around the Australia are creating mini sculptures of which Malcolm's tableware is an integral part… visual feasts for their customers.
SPONSORS
Number 1 brand in America for a reason. Skutt.com
For all your ceramic needs go to Georgies.com
Instagram question: Do you always make for yourself or do you make for the market?
Both, but generally in order to make a living I make for the market. So I think it's important and it's probably one of the reasons I've been a little bit on the outside of the ceramics community and art community because I actually make for the market. I price it to sell.
Instagram question: Do you consider your work art or craft and how do you find the balance between art and craftsmanship?
That's a huge question. I'm a craftsman because I really like working on the skill. The skill is very important to me, and skill development, but also my work is art. Hopefully people will be digging up the shards in thousands of years and sticking them in the art museum. It is definitely art as well. I would say we shouldn't be preoccupied with those distinctions. It's all art, even someone making a chair is art. It's a beautiful piece of furniture.
Instagram question: If you could make anything and have it not crack or blow up what would you make?
I have lots of things crack and blow up, that's for sure. What would I make? At one stage I used to think I really wanted to make some big pieces but I think that is too pretentious now. I think people's homes can't justify big pieces and I think in terms of consumerism and consumption we shouldn't be making big stuff anymore. I don't know if there is anything I want to make that I haven't made at this point.
How do you market yourself?
I am very lucky now, I don't really have to. People come to me, but I think that social media is important. To use that as a business tool. If I am going out selling I will make a point of making an appointment with a chef or a customer, not just cold calling.
What kind of accounting tools do you use to keep yourself on track with taxes and income etc? 
I use some accounting software on a day to day basis that does the invoicing. But I also have an accountant that basically does the bookkeeping, the main bookkeeping. Because I just don't have time to do that.
Instagram question: If your work were an animal what would it be?
What would I like it to be. I don't know, a wombat, a dolphin. That's getting back to the surf.
Book
Contact:
Instagram: @malcolmgreenwoodceramics