Podcast: Play in new window | Download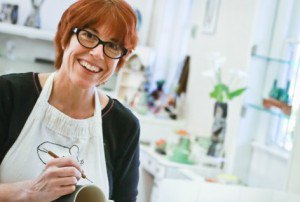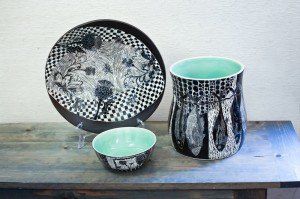 Patricia Griffin is the second of four children. She grew up riding horses, raising 4-H animals, building fence and, as teenager, working various jobs in the family's newspaper and printing business. Hard work and leadership were encouraged. Creativity was the norm: Patricia's grandmother was an artist and writer, her dad was a writer and all of Patricia's siblings grew up to be musicians, writers, printers and makers.
While running a successful public relations and design firm, Patrica needed a break from the hard paced fulfilling clients needs, she took a clay class as a distraction. Patricia just never left the clay behind. She has been working in clay for 17 years now. For the past seven, Patricia has been living and working in Cambria, CA, an artist colony on the central coast. Her studio is a converted one-room
schoolhouse on the town's main street. There, she welcomes visitors, shares her processes and talks about pots. Patricia claims it to be paradise.