Podcast: Play in new window | Download
Sarah Pike | Episode 158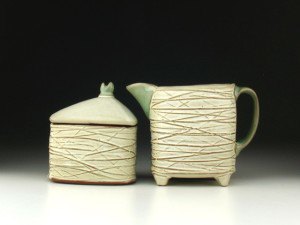 Sarah Pike makes slab-built, functional pots on the edge of a little ski town in the Rocky Mountains of British Columbia, Canada. If you went to Fernie, you would probably find her in her studio, which is just off the highway, next to the beaver pond and under the Lizard Range. Unless, of course, she is out doing her other favorite things… playing in the mountains, eating food somewhere or digging in the garden.  Sarah studied ceramics at ACAD in Calgary, the University of Colorado, Boulder and the University of Minnesota, Minneapolis. Her pottery is inspired by many things, including the landscape around her home, the crazy rich history of pottery, specifically Japanese and Islamic ceramics, but also by antique tinware, textured metal, and old things you might find in barns.
SPONSORS
Number 1 brand in America for a reason. Skutt.com
For all your ceramic needs go to Georgies.c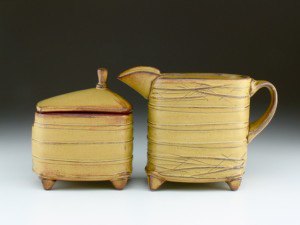 IS THERE A FORMULA YOU USE FOR COMING UP WITH YOUR PRICE POINT?
Well, I guess there is sort of a base from where I start by looking at other pots and how much they are, if there is a potter that is using a similar process. Or maybe if it looks like they are spending the same amount of time. I think in some ways I am thinking about the time invested in it, but pottery is weird. I have friends who are painters and the price of their paintings are not based on time it's based on, this is the painting and this is how much I am going to sell it for. As you get more well known you increase the price.
HOW DO YOU DEFINE SUCCESS?
I guess for me it is the ability  to continue to make pots.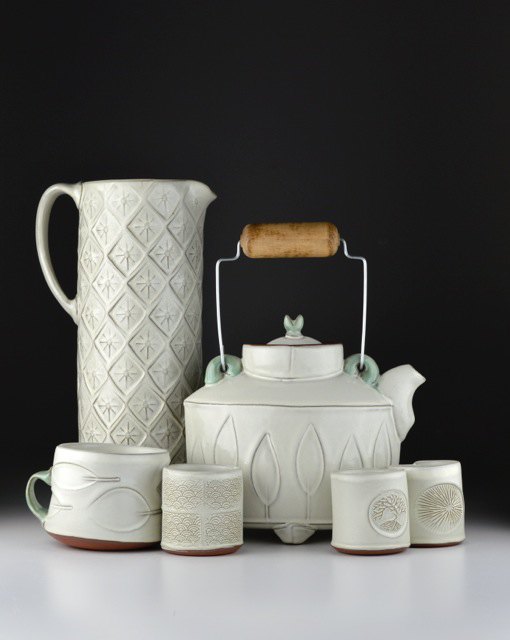 HOW IMPORTANT IS REPEAT BUSINESS FOR YOU? DO YOU TARGET EXISTING CUSTOMERS?
The only way in which I do this is in my community because they are here. So my Christmas sale and home sale I would be targeting repeat customers. In that way I know I have to keep things fresh.
WHAT IS YOUR FAVORITE ASPECT OF BEING AN ARTIST?
It's the making. I really like making stuff so I just keep making and I procrastinate everything else by making more stuff.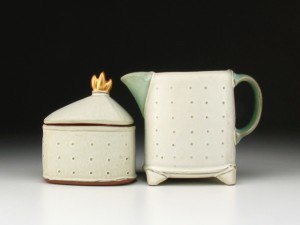 WHAT IS YOUR FAVORITE ASPECT OF BEING A BUSINESS OWNER?
It is a love/hate relationship, having your own business.You can put endless number of hours in or not put enough hours in. It is all based on your own drive I guess. If we have an awesome powder day at the ski hill I can go up for two hours snowboarding and come home and finish up. Or if my kid is sick from school I can stay home with them , that is pretty awesome.
WHAT THREE PIECES OF ADVICE WOULD YOU GIVE TO SOMEONE WHO WANTS TO BE A PROFESSIONAL POTTER LIKE YOU?
I read in an article in Studio magazine when someone was asked a similar question, they answered, just be determined. Keep doing it. I feel like that is what worked for me. You just have to work hard.
Second would be to love what you do. That makes the first part way easier.
My third piece of advice would be community. Your community is really important.
BOOK
A Beginner's Guide to Constructing the Universe
CONTACT