Podcast: Play in new window | Download
Lauren Gallaspy | Episode 230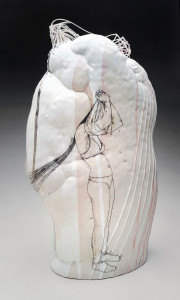 Lauren Gallaspy received her BFA in ceramics at the University of Georgia in 2005 and her MFA from the New York State College of Ceramics at Alfred University in 2007. From 2009 to 2012, Gallaspy served as co-director and owner of Trace Gallery in Athens, Georgia alongside artist, educator, and collector Andy Nasisse. In 2013, she was recognized by the National Council on Education for the Ceramic Arts as an Emerging Artist in the field. Additionally, she was one of 25 artists awarded the prestigious Joan Mitchell Painters & Sculptors Grant for 2012. Her work has been featured in Ceramics:Art & Perception, Ceramics Monthly, Ceramics Now, Clay Times, Lark Book's The Best of 500 Ceramics and 500 Cups, Rocky Mountain Artists, and the recently published Glaze: The Ultimate Ceramic Artist's Guide to Glaze and Color.  Gallaspy has exhibited nationally and internationally in over 60 group and solo exhibitions since 2007, including in the highly publicized "State of the Art: Discovering American Art Now" at Crystal Bridges Museum in Arkansas.  Lauren was an Assistant Professor of Fine Arts from 2012 to 2015 at the University of Utah in Salt Lake City. She is currently a long term resident at the Archie Bray Foundation in Helena, Montana.
SPONSORS
Number 1 brand in America for a reason. Skutt.com
For all your ceramic needs go to Georgies.com
During the podcast we have talked about uncomfortable things. How do you get past the discomfort to be able to talk the uncomfortable things?
I feel like I navigate speech in the way I navigate my work, it is sort of meandering, seeking meaning, and trying to circle an idea. So the question is how do I get over that discomfort?
Yes.How do you get past the discomfort so you can talk about it?
I don't think I do. I think I am always uncomfortable with it and I see that as an indication that I am talking about something that is true. So in some ways the fact that I am uncomfortable with it reminds me that I am accessing something truthful. Because if I wasn't uncomfortable with it then I would probably be spewing lies or something, I could have a kind of distance, or I could talk about it as an idea rather than a feeling. So in someways I think I have just learned to live in the discomfort a lot better.
What do you feel is the role of women in art?
I wouldn't necessarily say it is a different role than men in art, right? I think we are all just makers trying to ask questions of ourselves and ask questions of the work. To produce mysterious, enigmatic objects in the world, that have some sort of meaning to us. Some people have more specific objectives or goals. I never think of my work as  political or message based. I think instead of the idea of can I create a compelling, mysterious object that possesses meaning in the world. So I don't know, I think it would be wrong for me to speak for all women in saying what their role is in art.
What is the scariest experience you have had with your work?
I don't know if I could name a particular moment. I think the scariest thing is every day in the studio. Every day that you enter into the space and  you begin working. Maybe every time I start a new piece, maybe that's the scariest moment because you have nothing and you have a task to create something and you could literally make anything and that's terrifying.
How do you teach without becoming a director?
I see my main role as a professor as listening. And I think often what students want more than anything is for someone to sit across from them and actually hear what they are saying. So that doesn't mean that I am just sitting there blankly while they are spewing information at me, although sometimes that is what happens. But my goal as a listener I think is to hear, so when they give me a huge amount of information about what they want, what they are looking at, what they are struggling with, what their ideas are, my job is to maybe to look at all of what they have said and point out something to them that is consistent or inconsistent. Sometimes other things come into play with that.It may mean pointing out where they may need to develop their skills. It comes down to hearing what the student wants and allowing them to practice saying what they want.
I work a lot with students on artist's statements and I like working with students on artist's statements and one of the things I talk about them with artist's statements is the idea that often as an undergrad or even graduate student, your artist's statement is a kind of lie that is looking for the truth. That is you actually hold the artist's statement up to the work, either the work doesn't fulfill the terms of the artist's statement or the artist's statement doesn't fulfill the terms of the work.
What do you enjoy making more your sculptural work or your vessel work?
It's an interesting question because it is something I am struggling with now. A-what gives me more pleasure? B- what do I want to invest in? And maybe those questions are the same thing, you know? That maybe the thing that gives me more pleasure is the thing I want to invest in. I like them both for different reasons and I think what has happened most recently  in my studio is that I've stopped separating them as much. I often think of my vessels as poems and my sculptures as short stories or epic poems, these much more elaborate expansions of these smaller ideas. Some of the moves I have been making is trying to bring them together more. So maybe it is both. Maybe I like making both.
Book
Contact