Podcast: Play in new window | Download
Samuel Johnson | Episode 240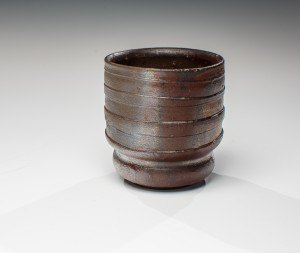 Samuel Johnson was born on the Eastern prairie of the Red River Valley in 1973. After studying painting and ceramics at the University of Minnesota at Morris, he served a three and half year apprenticeship in pottery under Richard Bresnahan. In 2000, he was invited as a guest of Denmark's Design School to study Scandinavian Ceramic design in Copenhagen; while also working at the International Ceramic Center in Skaelskor and as an assistant in private porcelain studios. After working for a short period in a studio in New York, he traveled to Japan as a studio guest of Koie Ryoji. In 2005, Johnson earned graduate degrees in fine art from the University of Iowa. He currently serves on the Board of Directors for Artaxis.org, and international artist organization, and is an Associate Professor of Art at the College of Saint Benedict and Saint John's University in Central Minnesota.
SPONSORS
Number 1 brand in America for a reason. Skutt.com
For all your ceramic needs go to Georgies.com
How does a student in your courses get an A?
Well, I think they have to show some commitment to their work that demonstrates their own self motivation. They have to be grounded in their own work. Not just making a certain number of things or showing a lot of effort, what I want them to do is I want them to pursue their own interests. Those interests are leading them to the next step in their work. So for some people that might mean they discover something about somebody else's work that suddenly feeds their work, but they discover that influence through their own hunger. Their artwork has gotten them to the point where they are asking questions and seeking answers.
What are the top three expectations you have of a student?
They need to be dedicated. They need to be earnest I think. I want them to be pursuing their own questions rather than going through the motions or just mechanically producing things.  I expect them to be willing to risk something, willing to take chances and to be open to the possibilities that those chances could lead them to.
How do you teach your students to find their own voice?
They have to be at a point where they want that. So helping them recognize that there is such a thing as their voice, there is such a thing as their point of view. A lot of them don't know that. A lot of them imitate something someone else made without really understanding it. But what I found is that it doesn't invalidate their voice and I think their voice is leading them to the things that they like. They are saying yes to something and saying no to something else. If I can have them ask the question, what exactly about this thing is so compelling to them then we can start to have a conversation about what they want to make. I think that is the beginning of finding their emerging voice.
How do you help students make a career out of clay?
I think it has to be built on a strong foundation of making, making work that they believe in and for them to have a sort of drive to make truly excellent things. It has to be built on that foundation but within our art program I realize that we don't do everything that someone needs to know to be a professional artist. We do some things exceptionally well. We teach a year long capstone class where students engage in professional development. They meet with other artists and are exposed to other professionals in the field and develop professional skill sets. But beyond that there are many ways I can use our institutions to kind of fill in the gaps. If a student wants to be a professional potter I may discuss with them taking advantage of our business program or become involved in the entrepreneurial club so they can start to think and develop from that point of view as well. I also encourage them to meet and possibly intern with other potters they are interested in.
From your experience in the last 12 years, what would you change about the student/teacher relationship?
That's an interesting thing because on some level every semester I change that relationship. From semester to semester I think about ways to change my course to better connect with my students. That is within a certain specific structure. I know I am going to be having 19-20 students in a class. Well it makes a lot more sense to have fewer but that is not something I would necessarily change or even ask to change. But if I could change something it would be working more one on one or in small groups. Separating out people with different motivations in the class would make a lot of sense too.
If you had the opportunity to get the cash or take a free trip, which would you take?
Probably the trip. I really like to travel. One of the things that has been really rewarding is  traveling with a certain intention. Following a question and letting that question lead from one place to another. I have had a lot of great experiences meeting people that were at the end of that question.
Book
The White Road by Edmund De Waal
Contact
Instagram: @samueljohnsonpottery