Podcast: Play in new window | Download
Luke Huling | Episode 299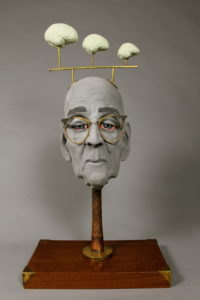 Luke Huling is a figurative sculptor from Harrisburg Pennsylvania. Luke graduated from Edinboro University of Pennsylvania in May of 2014 and received his BFA in ceramics and a minor in metalsmithing. For two years following undergrad Luke was the long term resident at The LUX Center for the Arts in Lincoln Nebraska, teaching throwing, hand building, and introductory metals classes. Currently Luke is attending Indiana University in their MFA program located in Bloomington, Indiana. He continues to use clay and metal and combines them together in mixed media sculptures.

SPONSORS
Number 1 brand in America for a reason. Skutt.com
For all your ceramic needs go to Georgies.com
You are no longer at the adult care facility, where are you find your material?
That's a really good question. I think ever since coming to grad school I have had to look at where my ideas are coming from in a more conceptual way. I have been toying with the idea of making more personal work about myself and how I relate to these people rather than direct representations of the people's stories.
How much time out of the week does your grad school take?
I am in the studio every single day. I probably get in in the morning and leave late at night. It is kind of normal to me. It doesn't feel like work. If I don't go to the studio I feel off, I feel that I am not myself.
Do you schedule goof-off time?
Yeah, you have to. I remember the first day of orientation at grad school my head professor said, You know grad school is going to be really hard, you guys have to learn how to lubricate. He told us where all the dive bars were around town. So you got to find a way to lubricate.
How does the influence of classmates affect your work?
Right now I am sharing first-year at IU. You share a studio with the other two first-year ceramics artists. This year I am with two potters so when I have been with sculptors before they have given me more critical thoughts on the way I sculpt. It's interesting getting a whole new perspective from my peers when they are just solely potters.
How do you schedule your time so you hit your deadlines?
I guess just being the studio as much as possible. And just looking at the deadlines that the professors give you and seeing what is possible to make in those times. I do a lot of mixed media work and I think about what components I am going to add, whether it is metal, wood or whatever.
What are you two favorite tools as a sculptor?
My favorite tool ever is: they are called Color Shapers. They are silicon-tipped brushes. I use those on every single one of my sculptures. They are really good for smoothing out and getting recessed wrinkles and kind of fleshy feelings to them. I guess my second favorite tool is a metal rib probably. I sculpt solid, so I kind of sculpt a basic form and I smooth it all out. I get a generic shape that I want to and build up from there. So I am using the metal rib a lot.
Which is better, asking for permission or asking for forgiveness and which one are you?
I honestly think asking for forgiveness. If I am being honest. You will never get to experience some things, you just got to go for it. You can always say you are sorry. That sounds horrible, but…
Book
500 Figures in Clay by Nan Smith 
Contact
Instagram: @lukehuling