Podcast: Play in new window | Download
Paul Ide | Episode 312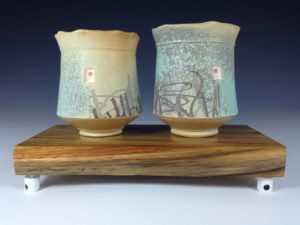 Paul Ide is a diverse and accomplished artist who has exhibited his work throughout the United States. He received his undergraduate degree in Art from Minnesota State University Moorhead in 2002. A potter, illustrator and muralist, he creates works that respond to the ever-changing seasons of his life. Having been greatly influenced early in life by the Hip Hop culture, his work, regardless the medium used, reveals this influence allowing him to visually communicate his ideas in a way that is deeply and personally rooted. Paul works at the Plains Art Museum in Fargo, North Dakota as the Center for Creativity Ceramic Studio Technician, and Social Outreach Coordinator.
SPONSORS
Number 1 brand in America for a reason. Skutt.com
For all your ceramic needs go to Georgies.com
You have a full-time job and a family. How do you find time to make your work?
For the most part right now it is after everybody is in bed. That's my time. It is from 11 pm until I decide I should probably get to bed because I am not going to be able to get up in the morning and get Fruity Pebbles for the kids. That morning is a real struggle because I do press so much in at night.
Tell me about the process about how you develop a new idea.
In 2005 I quit making pots altogether. When you get an art degree there is not a whole lot of employment for you. You are either swinging a hammer or getting people drunk. So I was swinging a hammer, 50 hours a week doing concrete walls. And 40 hours a week in my studio trying to do the art fair thing.  I neglected my wife and my brand new daughter, a lot. We talked about it and I said I would balance things out and I couldn't do it. She came into my studio and said this isn't working out, you are going to have to choose. And I quit making pots. That was for about 7 years. October of 2015 is when I came back and I got this job in clay and I started making pots again. There was a year of just knocking the dust off and getting back into it.
Knowing how much time you put in, how do you go about setting your price point?
At first it was priced on my market. In Fargo, North Dakota if you put a piece out for $20 someone is going to try and ask you if you will take $7. I love the people here but I have no interest in trying to sell work locally. But nationally people have no problem paying 40, 50 or 75 dollars on a mug if it's well made. As far as pricing, I look at other people in the field that are doing things similar.
How do you go about setting your wholesale pricing?
I would be a retail price with most of the galleries. I have to decide what is worth it to me. If I am getting five dollars a piece and I am doing 8 firings per mug, definitely not worth it. I just have to decide what is the price point hat people are going to stay interested and not hesitate and keep buying. Also, once that 50 percent is taken and shipping costs, what am I willing to accept at the back end.
What do you think about trading work between artists?
I love it. The barter system is fantastic. First of all Uncle Scam doesn't hear about it at all. I can't afford to buy my own work let alone anyone else's. When I do a trade we post it on Instagram to help transfer that audience to the other people.
How does one find a moral true north and a commitment to priorities?
I think there is a lot of trial and error and failure and hardship and struggle. And kind of feeling like you are getting kicked when you are down just by life in general. Getting past that and powering through it, especially when you have someone there to help pull you up out of that, that's helpful.
If you had ten thousand dollars of windfall money, what would you do with it?
I would apply it directly to student loans. I just don't like to be under the thumb of debt.
Book
Contact:
Instagram: @9phore5