Podcast: Play in new window | Download
Jackson Fyfe | Episode 329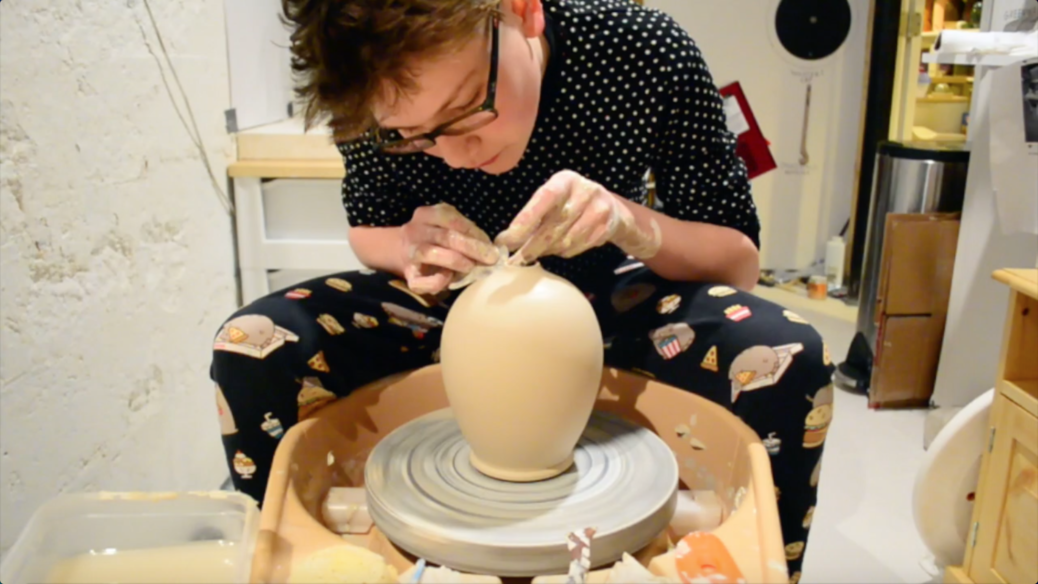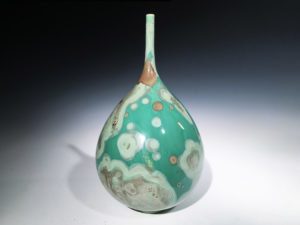 Jackson Fyfe is a 17-year-old potter from Newton, Massachusetts. Jackson is a full-time high school student and spends most of his free time in the pottery studio. Jackson mainly focuses on decorative crystalline pottery but will occasionally branch out and experiment with different glazing techniques and functional forms as well.
SPONSORS
Number 1 brand in America for a reason. Skutt.com
For all your ceramic needs go to Georgies.com
Where do you get your inspiration?
A lot of my inspiration comes from, of course, Instagram, a lot of those potters. Also shapes and forms are inspired by architecture and a little bit by nature with my raku pieces.
What do you think about your work being critiqued?
I am fine with critiques. Critiques in my opinion help you grow and you find out what people like and what they don't like. And you can use that information to increase your pottery's popularity.
What do you think about criticism? (negative) 
I can handle a little bit of criticism. If you are just criticising just to be mean it can get to be a little annoying. I don't take it too personally though. A lot of times people who criticise are uncomfortable with their work or something about their process.
When you are making your work do you ever get blocked?
Yeah, definitely. A lot of what you don't see on my Instagram is me playing around with different shapes and forms and seeing what works and what doesn't.
With all your involvement on Instagram you see a lot of work out there. How do you keep yourself from being a copycat and staying original? 
I have to say, I have copied some artists before and I am trying to go more in my own direction. But a lot of ceramics is copied forms. If you look at someone's piece you are almost guaranteed to find something very similar to it somewhere throughout history. A lot of what is original comes from just experimenting with different processes.
Who are your ceramic heros right now?
Matt Horn was my original ceramic hero. He does a lot of crystalline pottery. I like Warren McKenzie a lot, of course. Also Max Adelman on Instagram, he is my age, 17 or a8 years old.
When you think about the influence of your grandmother in your life, what do you appreciate most about her?
I appreciate… she is very open to different ideas. She is not overpowering when it comes to teaching her techniques and the way she learned about ceramics. She lets me figure out stuff for myself. We will teach each other and both benefit from each other.
How about your mom. What do you appreciate most about your mom?
I appreciate how she is very laid-back and she is open to me experimenting. She was very open to me getting a studio in the house and pursuing ceramics as a career. And she is Ok with me going to art school which a lot of my friend's parents aren't. So I am very thankful to both of my parents being OK with me focusing a lot of my time on ceramics.
If someone were to google your name, what would the one thing you would like them to find out about you?
Probably my age to be honest. A lot of my popularity comes from my age.
Do you think your age is a replacement for skill though? 
I don't think so. My age and my skill combined is what makes me unique. Like, a lot of people say I have the skill of a full-blown potter and combined with my age it is what makes me popular on Instagram. I get a lot of comments talking about my age.
Book
Chemistry for Christallieri by Fara Shimbo
Contact:
Instagram: @jacksonfyfeceramics