Podcast: Play in new window | Download
Darren Francis Cassidy | Episode 330
Inspired by nature, Darren Francis Cassidy spend happy hours lost channeling his passion into each piece in the hope that when living with his work in your home, holding a piece in your hands, or just gazing upon them you will also be inspired to go out into nature and revel in its calming beauty.
SPONSORS
Number 1 brand in America for a reason. Skutt.com
For all your ceramic needs go to Georgies.com
Do you have to be on every social media platform?
No, I don't think so. If you are you are going to water it down. There is only so much energy you can put into it. You will end up putting more time into social media than you do actual production. So I think you pick your horses and run with those.
What type of content should you share based on the platforms you are on?
The goal for me is to build relationships with the people that are viewing it.  So you are not just showing a shiny pot as a finished end, you always want to show how you are doing it and also to show the person who is making it. I think that is a very good approach to it. You want to promote yourself as a person as well as an artist as well as a product. All those tied together are important.
How often should one post?
Ah, the golden question. And at what time? I post here, you could all be asleep in America. It depends on the day. What's a good idea is to try different times. So pick say, two o'clock every day, post and see what your numbers are like. Taking into account what kind of an image. It's amazing, some images get an awful lot of activity and images you wouldn't think would get a lot of activity. The next week maybe post at 6 o'clock in the evening and straight away you are getting numbers back to see what was best.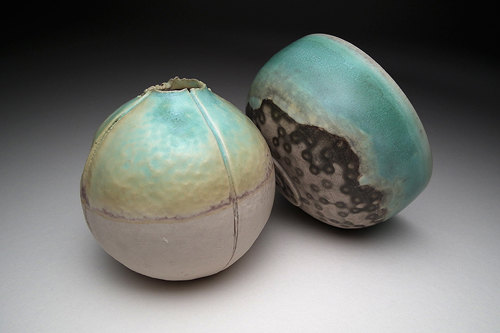 How do you get more followers?
Persistence. This is true because when I first started I had 17  followers and I was getting excited because I was close to 20. It is good to get excited about those figures as well. It slowly grows and it's basically getting traction. Once you get over 100 then it spreads a little bit, then to the thousands. I am still growing. I look forward to when I get a K. I have several thousand but they haven't given me that special K yet.
Should you be compelled to connect with everyone? If someone follows you should you immediately follow that person back?
No, I think you should be honest in your following. Follow something that interests you.
Should a person use any of those "special tools" to gain more followers? Like go out and buy followers? 
No! I do not recommend it. Why would you want people who really are not that interested in your work to be following you? They are not real followers.
Is it Ok to be promotional? 
Yes, but not a hard sell. At the end of the day it is still a business, right? But it is a business you enjoy and are passionate about and I think if you get that across in your posts, then it's not like sell, sell, sell. What you are selling is your life, the life that you live, what you make, they are handmade products. Yes, there is place for selling your work, but your work should nearly sell itself.
What is the most difficult part of growing your art business?
Staying motivated to be in it for the long haul. At the beginning it can be quite difficult. My first year was very difficult. I was thinking: Can I make this work? Can I make this a business? Then just holding in there and having belief in yourself. That was probably the most difficult thing for me. Just having faith in yourself and knowing that it is the right thing. If you can do something where the hours slip by and you don't even know that they are passing, if you can make that into your living ,then do.
Book
Make a living without a job by Barbara Winter
The Power of Now by Eckhart Tolle
Contact:
Instagram: @dfcassidy