Podcast: Play in new window | Download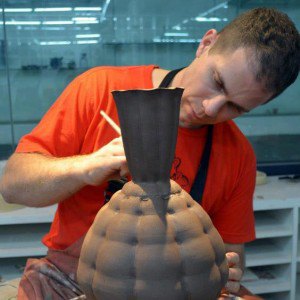 Ben Carter is a ceramic professional based in Santa Cruz, CA. He received his Masters Degree in ceramics from the University of Florida. He maintains a studio, teaches workshops and exhibits nationally. He is the creator and host of the Tales of a Red Clay Rambler blog and podcast.
WHAT DO YOU DO TO KEEP YOURSELF INSPIRED AS A POTTER?
I talk to people all the time. I've never been accused of not having something to say. I regularly go out and  ask the people  that I admire what keeps them engaged in their studio and that process keeps me inspired. Even though I do look at books and I do
read a little bit, the majority of my learning and inspiration comes from talking to other people. I try to do that a couple of times a week with different people even if they are not necessarily artists.
WHAT ARE ONE OF YOUR GO TO TOOLS? A TOOL THAT YOU LOVE TO HAVE IN YOUR STUDIO?
My eyes. I think the way I see things in the studio is what differentiates my studio space vs my regular life space. As soon as I walk through the studio door I look at things differently. I'm paying attention on a different level. So all the tools I use, whether it is the wheel or my favorite rib, it is not necessarily about me holding that tool as it is me watching that tool and how it affects the clay.
WHAT ADVICE WOULD YOU GIVE TO A  POTTER THAT WOULD LIKE TO GO INTO THE POTTERY BUSINESS?
You don't have to make the things that you love. I was very confused about that early on, I thought that if I saw pots that I liked  that I then had to try and make pots that were in that style and I don't think that's necessarily true.
My voice is not the same as the voice of the person who made that work. My experiences that I have had in my life, that's what I'm going to be putting into my work. So I need to trust my own instincts and my own voice more that just trying to copy someone else's work.
The second thing is to leave the US as fast as you can. Get an outsiders perspective on your own culture. That has changed my art completely. Now I can see the South where I grew up just as rich culturally as I would say in Japan visiting a religious temple there.
HOW IS YOUR TIME SPENT AS A POTTER?
I would say about 60 percent is studio work. That is usually broken up into different parts of the day. I will start the day throwing and as things are drying toward the middle of the day I'm inside working on marketing. Sometimes that is social media work,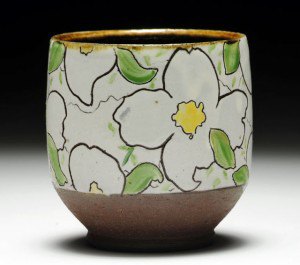 sometimes that's writing out goals and actual marketing plans because I found that that is really helpful. I go back into the studio later on after things have dried and I trim or I decorate and finish the process that I've started. At some point near the end of my day I try and exercise because I feel like keeping my body working is the very most important thing to me being a potter. I started making pots when I was 15 or 16 and I realized that if I didn't keep my body healthy I  would never make it to be a potter at 40.
BOOK 


Uncommon Clay 
CONTACT