Podcast: Play in new window | Download
Adriana Christianson | Episode 182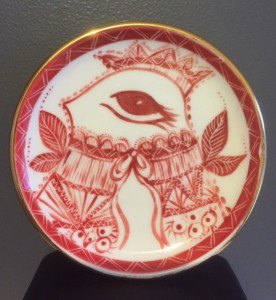 Adriana Christianson is a studio potter based in Croydon , an outer eastern suburb near Mt. Dandenong in Melbourne , Australia. All of Adriana's work is made and fired in her tiny garden studio that is surrounded by a rambling garden behind her 1920's original farmhouse. Adriana began potting in High School and continued at Prahran College of Advanced Education to study a Diploma of Art & Design majoring in Ceramics. Adriana then started working in the production pottery of Jan Lewis and Tabletop Ceramics as a Studio Assistant and decorator . Her 30 year journey with clay has always run paralell with 'growing' her family and teaching adults and children pottery in community settings . The inspiration for Adriana's work comes from the beauty and intricacies of floral wallpapers and fabrics of the 1800's, (especially William Morris and Liberty) also the blue and white Willow pattern dinnerware, which she constantly collects.
SPONSORS
Number 1 brand in America for a reason. Skutt.com
For all your ceramic needs go to Georgies
Do you fill your cupboards with your own work or do you fill them with everybody else's work?
Both. I have a ridiculous collection of cups on my kitchen shelf which is right behind me. It's just ridiculously insane. So that when people come and have a cup of tea at my house they have to choose a cup! So they'll stand there for ages and the tea is going cold and they're trying to work out which cup to use.
Who is your mud crush? 
I don't think I've got a mud crush! As far as someone who inspires me, definitely Vipoo Srivilasa. He's a Thai Australian potter. And he is also a very genuine person.
What's the role of an artist in Australia? 
I think the role is to make everyone aware that there is beautiful artwork in your community and there are people creating these fantastic works of art. Also that there is more to life than having a nine to five job.
How do you promote your work? 
Look, I'm really quite addicted to Instagram. I do tweet occasionally. Accidentally, I think. So I would say I really promote it through social media.
If you could have a superpower what would it be? 
Apart from somebody to cook dinner for me every night? My superpower would be to stop all those wars that are happening.
Book 
The Coat Route by Meg Lukens Noonan 
Contact 
Instagram- adrianachristianson