Podcast: Play in new window | Download
Ron Geibel | Episode 265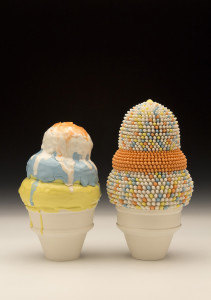 Ron Geibel received his MFA from the University of Montana. Ceramics Monthly Magazine recognized Geibel as a 2015 emerging artist. Currently, Geibel is a Visiting Assistant Professor of Art at Southwestern University in Georgetown, TX. His work toys with the intersection of public vs. private and confronts matters concerning, sexuality, gender and identity.
SPONSORS
Number 1 brand in America for a reason. Skutt.com
For all your ceramic needs go to Georgies.com
From your perspective, what makes a good teacher?
I would say someone who doesn't put themselves first. That's a tough one because I might have a different answer for that tomorrow but I think someone who approaches a group of individuals with awareness and empathy. Folks are coming from such different backgrounds and different places so creating that space where everyone feels welcome and showing them some cool stuff along the way.
What makes a good student?
Someone who really listens. I don't know where I heard it but someone said to me at one point, I want you to not just hear what I am saying, but I want you to really listen to what I am saying. I think that makes a good student, someone who is willing to listen, but also stand up for what they are making and what they believe in and also be able to accept that there are other opinions and other approaches.
As a teacher you have to critique your students' work, do you critique your own work?
Maybe not as much as I should but I think I always have those moments where I want certain things to come across, so I will have those moments where I will kind of step back and try to look at it from an outside perspective. We are always our own toughest critique, right? I ask myself, am I communicating what is important to me.
Has rejection ever affected your work?
At some point absolutely. I think rejection is something you have to be willing to accept if you are jumping into the art world. It's a pretty vulnerable spot to put yourself in. You can't take it personally.
How do you pamper yourself? What is the best way you go about treating yourself?
The dog walk for me in the moment in the day where I kind of check out. I don't really speak to anyone on the street. I just zone out and I am in that moment. That is a nice way to step out for a second. And then, who doesn't like to go buy some new clothes or get a haircut or something? You have to pamper yourself somehow. I don't maybe do it as often as I should, but every so often I do.
Book
Objects and Meaning: New Perspectives on Art and Craft by Anna Fariello
Contact
Instagram: @lilronnieron