Podcast: Play in new window | Download
Kim Murton is a long time potter. Kim majored in ceramics in college then worked in animation for ten years in New York City where she was cutting, pasting, cel painting, inbetweening, and assisting. She now spends her time between drawing on the computer and working in her clay studio. She returned to working with clay after moving to Vancouver, Washington and now produces wonderful works that combine her playful sense of humor with her great design and color sensibility.

HOW DO YOU KEEP INSPIRED AS A POTTER?
There are times when I'm not inspired and I keep working through it. I think the lucky thing about being a potter is every time you open up that kiln you get this little rush. It is great opening up that kiln.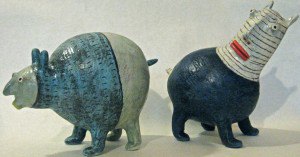 WHAT ARE ONE OF THE TOOLS YOU LOVE TO USE? A TOOL THAT YOU LOVE TO HAVE IN YOUR STUDIO?
The nose tool,(Kemper tool C4 USA) I should have ten of them. I have two right now. I've gone through many nose tools. My favorite was this Japanese hand carved tool that was so beautiful,
but I think it ended up down the drain somehow. Basically I make a lot of faces and I need this tool-it's cone-shaped, wooden, sort of like the shape of a sharpened pencil. In desperation I have tried using a sharpened pencil but the nose tool is not quite as pointy as a pencil, it's a fatter cone.  Also, the paddle and the rasp.
WHAT ADVICE WOULD YOU GIVE TO A  POTTER THAT WOULD LIKE TO GO INTO THE BUSINESS OF
POTTERY?
I would advise them to keep going at it. To not worry about what other people are thinking. To be brave enough to talk to gallery owners and gallery people and put yourself out there on Etsy and to just persevere.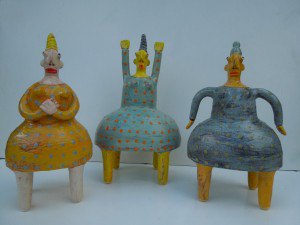 HOW IS YOUR TIME SPENT AS A POTTER?
I get up and the first thing I usually do is do my Worry of the Day . I have been trying to sit and meditate for 10 minutes which sometimes I do very religiously and then other times I realize a month has gone by and I haven't done it at all. Then I try and incorporate exercise into the morning ,which I have not done yet. But then I sit down at the computer and I do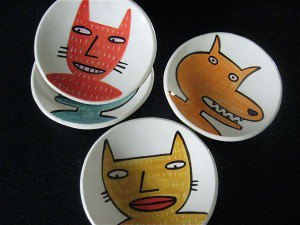 my computer chores. I do Worry of the Day and I also do social media for Art in the Pearl which is a job that I have. Then if it is a day that I have someone coming to help me then I meet them usually at ten o'clock. My day in the studio starts at ten. We joke about how artists stay up until 1 am and get a lot of work done, well my power time is between ten and two, I'm a mid-day person. So I work from ten to two, pretty much straight and then have lunch and usually around four or five I stop for dinner and family stuff.  Sometimes after
dinner I will go back into the studio for an hour or two. And I basically work seven days a week.
As far as marketing, when I open up the kiln, I take a photo and post that on my blog and say Hey, here's my new kiln load. Then I will say where it's going. (which gallery). I try to post on my blog at the minimum, twice a month. Sometimes more if I'm really cranking. Then also I post on Facebook. 
BOOK
Clay and Glazing for the Potter-Rhodes 
CONTACT