Podcast: Play in new window | Download
Gina Feddersen lives and creates from her home studio in the Virgin Islands, exploring and gathering inspiration from her natural surroundings and inner-spirit.  In 2008, Gina created isola bella showcasing her jewelry and textile designs. Her products have been featured in publications such as HAMPTONS magazine and COASTAL LIVING. When she is not designing she enjoys lazy Sunday afternoons on her boat exploring Virgin Island beaches with her husband and son.
HOW DO YOU KEEP INSPIRED AS A POTTER?
I go walking a lot and I go beach combing a lot. I need that alone time each day, even if it's just for an hour. It puts me in that creative rhythm with my quiet thoughts and just having time to look at things closely in nature. I don't really research other artists or have a lot of literature on pottery, I kind of just go with my instinct.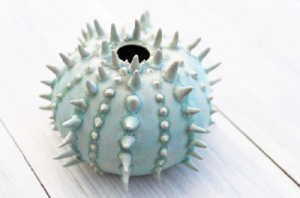 WHAT ARE ONE OF THE TOOLS YOU LOVE TO US A TOOL THAT YOU LOVE TO HAVE IN YOUR STUDIO?
You are going to laugh but it's my Burt's Bees mosquito repellent. My studio is in my garage and I'm always shooing off mosquitoes while I'm throwing on the wheel.
I also love old ketchup bottles or squirt bottles. I use them a lot ,especially for my urchins.
WHAT ADVICE WOULD YOU GIVE TO A  POTTER THAT WOULD LIKE TO GO INTO THE BUSINESS OF
POTTERY?
To just enjoy it. Just keep doing it as long as it's enjoyable. And there is always something new to learn, you are just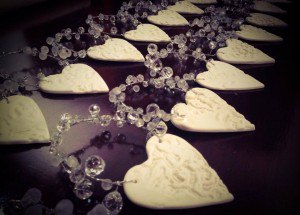 going to keep getting better at it. If I were to compare myself to how I was on the wheel four years ago, it's like night and day. You just keep getting better and better, you just have to keep practicing.
HOW IS YOUR TIME SPENT AS A POTTER?
I wake up and the first thing I do is put on my running sneakers and I go for a run. I'm usually doing that for about an hour. That put's me in such balance and I love being outside and usually every morning I see parrots flying from tree to tree
along the roadside. I get to see the beautiful beach of Megan's Bay, so that just kinda of puts me in this meditative state. I get back and settle into checking my emails and checking my Facebook pages. I usually like to do a post everyday on Facebook. I have a lot of projects going on right now so it's important for me to stay on top of that with the graphic designers that help me with some of my projects and model makers that help me with some of my
metal jewelry. So it's working out, getting organized and then I go into the studio. I work probably for about four hours. Less than four hours I feel like I don't get anything accomplished with clay. I'm a very slow potter. I take my time. Then I am back on my computer in the afternoon checking emails again. I do try to market and reach out to potential customers. How much time I spend on marketing depends on the season and the location of the stores.I do some researching too. I spend time looking at new glazes that are out or looking at catalogs to see if I need new tools or clay.
CONTACT