Podcast: Play in new window | Download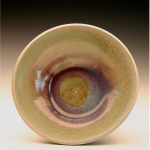 Will Donovan is living in Greenville SC, a recent grad from North Greenville University with a studio art major in sculpture and ceramics. Will creates functional work that is intended for every day use by ordinary people. The intention behind his work is to draw a parallel between the one function that brings fulfillment regarding both humans and pots; Serving.
WHAT DO YOU DO TO KEEP YOURSELF INSPIRED AS A POTTER?
I  think stuff like this really helps out a lot. Listening to other artists talk, engaging in an art community and making art are all things that inspire me as well as getting out. Sometimes you need to take a break from
making and I love to get out into nature as well and see what nature has to offer as far as inspiration goes. I remember taking one of those breaks and walking along the beach and finding shells and as I picked up the shells I would look at the colors and think, Man ,this would make a great glaze color. So I find inspiration at the most random times as I take a break from making or producing and that kind of encourages me to get back into it. So all these things together kind of inspire me to keep going and I'd say to sum it up, stick with it, getting involved in art community, as well as
taking breaks and letting inspiration come to you is really important to me.
WHAT ARE ONE OF YOUR FAVORITE TOOLS TO USE WHILE YOU ARE MAKING?
Hands down, my Mud Tools rubber rib. Definitely. I use it probably every
single time I step into the studio. it's wonderful. I don't quite like the metal ribs. I've sliced open one too many fingers on those.And so my rubber rib is definitely my go to tool. I guess as well as the wheel, you can't get too much done without that as far as how I like to work.
WHAT KIND OF ADVICE WOULD YOU GIVE TO SOMEONE WHO WANTED TO BE A POTTER?
Jump into it head first. There are so many temptations to take breaks if you don't have the financial resources and there's so many temptations to stop making or to stop researching but I would encourage people to not
get comfortable where they are but always push forward in their work, in their research and in their relationships with people because all of that can inspire you to make and progress.
BOOK
CONTACT